45 Christmas Gift Ideas for Woodworkers
---
45 Christmas Gift Ideas for Woodworkers
---
Choosing a gift for the woodworker in your life can prove difficult. Especially if it appears that they have everything that they need. But for most woodworkers it doesn't matter what we have in our workshops, There is always "The List" it may be written down on a notepad, an amazon wish list or simply a mental list of cool woodworking stuff. Now I have no doubt that there are woodworkers who have everything that they "need", but I'm yet to meet a woodworker who has everything that he/she wants.
DISCLAIMER: The majority of these are affiliate links, so if you purchase through these links, I make a little bit of commission. Thank you for your support.
Clamps
If there is one thing that you need to know about woodworkers is that you cannot have enough clamps. In case you missed it YOU CAN NEVER HAVE ENOUGH CLAMPS!! If you look at your woodworkers clamp collection and think "Hmmm, they look like they have enough clamps" you need to go back and read the last sentence.
So you have finally seen the light and agree that your woodworker clearly doesn't have enough clamps, so what should you buy? There is a lot of choice when it comes to clamps and some are definitely better than others.
You won't go wrong with Bessey Clamps. They are the Rolls Royce of the clamp world and to a woodworker nothing says "I love you" more than Bessey's (Well maybe Festool, but we'll get to that later). The reason for this is that they are a premium product. It's something that we really want but never get, as we can't really justify buying when there are other clamps available that are cheaper and still do the job of holding two bits of wood together while glue dries. But the Bessey's are quality. well made, and are the best at doing what they do.


Bessey KRK2450 K Body REVO Fixed Jaw Parallel Clamp Kit
Fixed jaw at 90 degrees, perfect for clamping square. comes with 2 x 24″ clamps and 2 x 50″ clamps. The KP Blocks mount to your workbench and are perfect for to quickly set up your clamps for perfect square clamping of doors, cabinets, window frames, picture frames, etc.
Bessey GSCC2.524 2.5-Inch x 24-Inch Economy Clutch Style Bar Clamp
For a cheaper option of Bessey clamps, you really can't go wrong with these. They offer a great combination of price and quality. Protective pads on both jaws protect the workpiece. 2 plate clutch allows for quick setting and clamping.
.

Bessey BGPKIT General Purpose Clamp Kit
If you don't want the pain of choosing which clamps to buy, this Bessey set offers a great combination of clamps. It would be a great starter set for someone who has very few clamps.
2 x 2″ spring clamps
2 x 4″ bar clamps
2 x 6″ bar clamps
2 x 8″ bar clamps
2 x 3/4″ pipe clamps
Safety
Gripper 200 Advanced System
Does your woodworker use a lot of machinery in the workshop, such as a table saw, band saw, router table, spindle moulder, planer thicknesser? Then this may be the perfect present for them (if they don't have one already!!!) The Gripper helps you use these machines more safely. It's a very clever piece of kit that allows you to grip and hold both sides of the workpiece being cut, something that can't be done with a conventional push stick. Hopefully the woodworker in your life still has all of their fingers. lets keep it that way.
JET 3-Speed Air Filtration System
It's an unfortunate truth that a lot of woodworkers overlook their own safety and health in favour of other tools and workshop stuff. The damage that exposure to dust does to you builds up over years and decades, and implementing proper dust control all to often gets moved down the project list. I own a JET air filter and the difference it has made in my workshop is incredible. Like a lot of woodworkers. I didn't think I had a dust problem until I got this. my workshop is an absolute pleasure to work in now.
3M Large Half Face piece Reusable Respirator
If you don't want to stretch to an air filtration system then please help protect your loved one with a decent respirator. Now there is a lot of choice when it comes to dust masks some like this 3M Respirator are very good and some are pretty useless. But the best dust mask there is, is the one you bother to wear.
Shop Fox W1733A Downdraft Table
Does your woodworker do a lot of sanding? do you walk into their workshop and can't see through the fog of dust? do they walk it into the house. Well this may want to consider this for their Christmas gift. Simply put, a downdraft table is a box with holes in that sits on your workbench. a dust extractor or vacuum attaches to the box on and sucks the dust away as you sand. the 20″ x 40″ table gives a very generous sanding surface.
3M Virtua CCS Protective Eyewear
Woodworkers need to look after their eyes. If you don't need glasses or wear contact then you need to make sure that you wear a decent pair of safety glasses like these from 3M. don't take risks with your eyes. If you need prescription safety glasses, then companies such as Frames Direct will be able to make you a prescription pair at great value
3M Peltor h20A Optime 
105 Earmuff
So we've looked at protecting yourself from dust, protecting your eyes, protecting your fingers. Don't forget to look after your ears. If you use machinery in your workshop then you have to take care of your ears. And just like dust you don't realise the damage you are doing until its too late.
Coleman Expedition First Aid Kit (205-Piece)
It's the item that every workshop should have, but probably doesn't. A good first aid kit is essential if anything should go wrong in the workshop. If your woodworker doesn't have one. Get one. hang it somewhere obvious in the workshop and make sure everyone knows where it is.

Power Tools
Festool 574432 Domino Joiner DF 500 Q Set
OK, I don't think any Christmas gift ideas list would be complete without a reference to Festool. Festool produce amazing, innovative, great quality power tools, When Festool designs a tool it always looks to solve a problem. Now these tools are not cheap but the build quality and support you get are amazing. I remember the first Festool product I purchased and any doubts I had were forgotten the moment I used it. I'll never go back.
So the Festool Domino is a hand held power tool that is based on floating tenon joinery. The tool cuts very accurate slots (mortices) in two bits of timber and a small piece of wood (the domino) is used to join the two pieces together. If you want to see this in more detail please watch the video below.
At $950 dollors, it isn't cheap, But it is a brilliantly designed tool that will allow you to revolutionise the way you approach a lot of your wood working projects. If you do decide to buy this as a gift don't forget to add a box of Domino's.  Festool is like taking the red pill (Matrix reference), Once you have experienced it, you won't want to go back.
18-Volt LXT Lithium-Ion 1/4 in. Cordless Impact Driver Kit
An impact driver is a great tool, they may look like a cordless drill driver, but they are so much more than that. They work by appling forward pressure at the same time as turning the bit, making it a lot easier to drive home screws. They are small and compact and can fit into smaller spaces. It has a chuck that slips if too much pressure is detected meaning that you are less likely to strip screws. Impact drivers do use harder wearing driver bits so combine with this set of impact driver bits for the perfect Christmas gift.
Workshop
Anti-Fatigue Comfort Mat
Standing for long periods of time on hard concrete garage and workshop floors. can take it's toll on your legs and your back. Place one of these in front of your workbench or machines and you really will notice the difference.
 
Wall Control 30-P-3232GV Galvanized Steel Pegboard Pack
Now, confession time, I'm a bit of a clean freak when it comes to my workshop. I like to be tidy and organized and probably spend more time than I should keeping my workshop straight.  I hate not being able to put my hand on the tool I need when I need it. Is this sounding familiar yet? Tool organisation is important and the best place to start is with a decent pegboard. combine this with some compatible hooks and your woodworker is well on the way to workshop cleanliness and efficiency.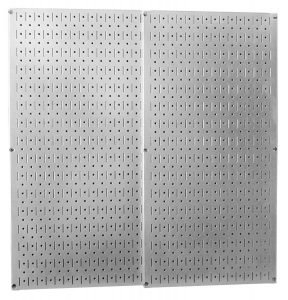 Akro-Mils 10144 D 20-Inch by 16-Inch by 6-1/2-Inch Hardware and Craft Cabinet
Woodworkers accumulate lots and lots and lots of hardware and small parts. Screws, bolts, washers, nails, hooks, the list goes on and on. I have a few tubs of assorted screws and nails, which I rummage through when looking for the right thing. I built myself some small part storage, but it feels like you can never have enough. This hardware and craft cabinet will make finding the right fixing for the job even easier.
Stalwart 30 Bin Wall Mounted Parts Rack
Keeping with storage, for the slightly bigger items these wall mounted bins are great for organising the odds and ends that begin to clutter up a workshop. By using your wall space efficiently you free up space in cupboards and drawers.
Ceiling-Mounted Workshop Heater
We're coming into winter now and the workshop can be a pretty cold place to be. Make the workshop a pleasure to work in with a decent  heater. This ceiling mounted halogen heater will get the workshop nice and cozy in no time.
Bench Dog 10-035 Bench Cookie Work Grippers, 4-Pack
So whats the point of these I hear you ask. Quite simply, they stop things from sliding around when you are trying to do things such as sanding, routing and finishing. place them on your workbench and place your workpiece on top. the rubber grip stops the workpiece from moving. a great alternative to having to clamp your workpiece to the workbench.
Hand Tools
Lee Valley 6″ Pocket rule
Now, the chances are your woodworker already has a number of measuring devices, but a small rule like this would come in very handy. It fits comfortably in your pocket and is protected with a soft vinyl sleeve.
Check price and buy at Lee Valley
Neiko 01407A Stainless Steel 6-Inch Digital Calliper
I actually own these and they are brilliant. callipers are used to very accurately measure the thickness of things. These will have many applications in the workshop.
Japanese Marking Knife
Lots of woodworkers prefer to use a knife to mark wood as the line a knife makes is thinner than a pencil. This laminated Japanese steel marking knife makes clean an very accurate marks on wood. If your woodworker still uses pencils then get them to try a marking knife. they may never go back.
Check price and buy at Highland Woodworking
Capri Tools 20005 Digital Angle Gauge
Does your woodworker use a table saw? If so then this may well be the perfect tool for them. Attach this magnetic gauge to the table saw blade when it is in the upright position, zero it and then tilt the blade to the desired angle. You can quickly see when you have got to the desired angle without having to keep checking.
Alvin FC88 French Curve 8 Piece Set
French curves are great for drawing arcs and curves and designing interesting pieces. this 8 piece french curve set is perfect for someone looking to get a bit more adventurous with their wood work.
Japanese Standard Dozuki Saw
The Japanese Dozuki saw is a great addition to any workshop. sometimes you need to make a cut where a machine can't reach. Your woodworker may already use English style handsaws, but for many woodworkers, once they have tried a Japanese Dozuki, they never go back. The biggest difference for Japanese hand saws over the English style, is they cut on the pull stroke, following a line is much easier and it requires less effort to make a cut.

Check price and buy at Lee Valley
Veritas Standard Block Plane
The humble block plane is a very versatile tool that is often overlooked in a lot of workshops. It can be used for creating bevels (chamfering) on both long grain and end grain. A low angle blade is also great for planing end grain, The block plane can also be used to ease edges and smooth rough surfaces caused by sawing. The Veritas standard block plane or low angle block plane would always be greatly appreciated by any woodworker.

Check price and buy at Lee Valley
Clever and Useful Stuff
Titebond-3 Ultimate Wood Glue, 8-Ounce
Ok so you might not thing that wood glue isn't the most exciting of presents, but it is something that woodworkers use a lot of, and it really will be appreciated. Titebond is a great waterproof wood glue and for less that $10 will make a great stocking filler.

Kreg K4MS Jig Master System
The Kreg K4MS Jig Master System is a pocket hole jig. put simply it allows you to very quickly and efficiently make a very strong joint between two bits of timber. It does this by first drilling a hole at a set angle (pocket hole) into one piece of wood. This is then clamped to the piece you want it joined to and the pocket screw is screwed through the hole just drilled locking the two together. Perfect for a huge range of joining applications.
 
Festool 495415 Imperial/Metric Tape Measure
So if you don't want to stretch to a Festool power tool for Christmas. Then you can always give them a taste of it with this brilliant tape measure. I got this last Christmas and it is far from being a novelty item. again Festool have been thinking outside the box when designing it. It has a little screen on the top which is perfect for measuring between two surface such as alcoves or another surface. You no longer need to bend the tape into the corner. A flip out tab also allows you to draw circles and curves based on a radius set on the tape. for $26 dollars this is a great stocking filler.
 
Woodstock D4221 Glue Spreader
Everything you need to apply glue to a wide range of surfaces, comes with a handy storage tray. Combine this with some good quality wood glue for a great Christmas gift.
 
Bucket Boss Bucket Boss 80200 Duckwear SuperBib Apron
Now aprons aren't for everyone. But they do have their uses. The 18 oz canvas helps protect your torso from flying debris and the handy pouches and loops are good for keeping tools and parts close.

Air Foxx AFZ-MAG0098 Magnetic Belt Clip
You don't realise how much you need this tool until you need it. We've all been in a position where you have removed a nut or washer and then can't find it when you need to put whatever it is back together.  A simple tool that takes the pain out of simple tasks.

Little Wizard 2 Woodworking Metal Detector
Woodworkers like to give new life to old timber. Does your woodworker make use of reclaimed timber? If they do then they run the risk f damaging saw and planer blades if they hit an old nail or screw when machining the timber. Using a small handheld metal detector like the little wizard saves time finding little bits of metal as well as saving money by not having to replace or sharpen blades. Its also handy for finding small nuts, bolts, screws etc, that have been dropped on the workshop floor.
Preppin' Weapon Sanding Block
Sanding isn't the most exciting job in the world but getting this part wrong can be make or break for your project. A good sanding block will help you do a good job, The Preppin' Weapon is a very good sanding block, it has a nice comfortable shape which will help you sand for longer. They come in 3 different colors so  you could get a set  of them and set them up with coarse, medium and fine grades of sandpaper.
Painter Pyramids
I can't stand painting one side of a cabinet door, waiting for it to dry before flipping it over to paint the other side. and these clever little inventions prevent that. the small points at the top of the pyramid support the workpiece with minimal area in contact with it. Paint one side and then flip it over to paint the other side.
Books and Plans
The New Bandsaw Box Book: Techniques & Patterns for the Modern Woodworker
David Picciuto is building a huge following with his highly entertaining youtube channel. His entertaining approach in his video's and tutorials are great for both novice and experienced woodworkers alike. The New Bandsaw Box book is Davids first book, and he has put a lot into it. Amazing images for inspiration as well as good instructions if you want build your own. check it out on Amazon where you can get  glimpse inside and see what it has to offer.
Crafting with Wood Pallets
Pallets are all around us and best of all they are usually free. This book from Becky Lamb, It tells you everything you need to know about working with pallets. From what tools you need, identifying what pallets can be used to detailed "how to" pallet projects.
The Furniture Bible: Everything You Need to Know to Identify, Restore & Care for Furniture
The title says it all, a very popular book, that will serve as a brilliant reference for any woodworker.
Colibri Mechanical Humming Bird Plan
Now I don't buy too many plans myself, I tend to make by own. But this is genuinely going on my Christmas list. Derek Hugger designs and builds amazing moving wooden sculptures. You have to see it to believe it. Check out his website to see his other plans www.derekhugger.com
Watch the video to see it in action.
Other Stuff
Woodworking T-Shirts
Everyone loves a t-shirt and there are plenty of funny woodwork related ones at online stores zazzle.com and redbubble.com. Click the links to check them out.
Mr. Coffee MWBLK Mug Warmer
Make cold coffee a thing of the past. Pretty much every time I take a cup of coffee into the workshop it is cold before I remember that  I made it. Place your freshly made cup of coffee on the warmer and it does a great job of keeping it warm for you.
Sangean PR-D18BK Portable Digital Radio
If you are going to spend a lot of time in your workshop then it's nice to have some sort of music or entertainment to whilst you make some dust. A good cheap digital radio is perfect.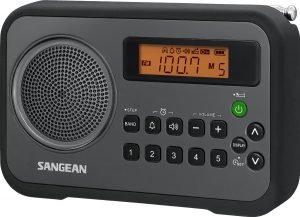 Danby DAR017A2BDD Compact Refrigerator
As if they don't spend enough time in the workshop already, why not treat them to a mini refrigerator for the workshop for cold drinks and snacks. at 1.7cu ft can be tucked away in a corner or under a cabinet. It won't be long before they never have to set foot in the house again.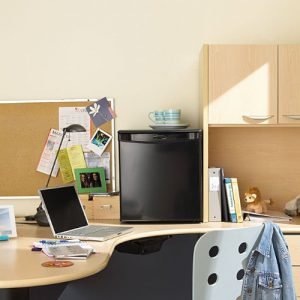 Wood
There's nothing to say that you can't buy a beautiful piece of wood for your woodworker. I would love on Christmas morning being given a beautiful piece of timber to make something. It shows that you have really thought about it and made the effort to find a timber supplier in your area. Although don't fall into the trap of telling the recipient that they can now make you something with it, because that just becomes work for them and a present for you.
Website
What you could do for your woodworker is give him the means to show off his work. There are lots of options if you want to create a website these days and the good news is you  don't need to know how to code. businesses like wix.com allow you to create your own professional looking portfolio website by choosing off the peg themes.
Vouchers
If all else fails and you're still stuck then you can always get your woodworker a gift card. "But which gift card do I get?" I hear you ask. We'll we have that covered as well
USA
UK
Conclusion
Well I hope that this list here has given you some good ideas. of what to get a woodworker for Christmas. If you think there's something that has been missed please leave a comment below.